Smart City street lighting solution for the first smart marina in the Northern Europe
Smart City solutions are becoming a major part of every city. These solutions would enable cities, including harbours to reduce costs and optimize operations as well to increase quality of life and overall safety.
The most recent yacht harbour of Tallinn is located at the Western coast of Kopli Gulf at the beautiful Kakumäe peninsula. Its unique and high-tech infrastructure makes Haven Kakumäe the most complete and modern maritime centre of the Baltic Sea region.
The project of the Kakumäe marina focuses on security with the inclusion of the finest technologies and the sustainable use of resources. The production and installation of pontoons at the harbour were completed in autumn 2016 and in June this year the marina was opened to the public. In the second stage, a modern vessel hotel and the marina's administrative building will be completed for the yacht club, together with the children's sailing school, catering establishments and other leisure facilities. While the project's successful execution relies on the knowledge and skills of the partners, the uniqueness and volume of the project is a great challenge for the contractor.
One part of the uniqueness in the harbour is the remote control of all the port's luminaires and over 500m of harbour's breakwater lighting through LoRaWAN™ network. LoRaWAN™ Luminaire Controllers manufactured by Nordic Automation Systems are installed on more than 45 outdoor lamps, designed by Keha3 Design Studio.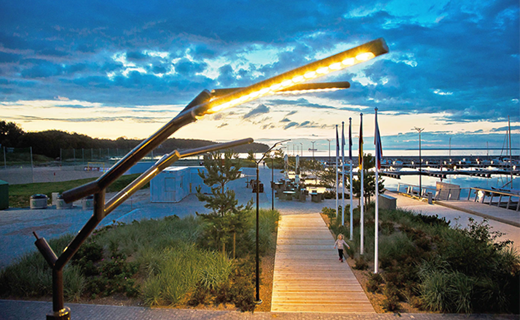 The remotely controllable LoRaWAN™-based IP68 rated Luminaire Controllers enable autonomous operation according to configured lighting profiles. LoRaWAN's™ low energy consumption and low-cost connectivity make it an ideal technology for controlling Haven Kakumäe marina's lighting system.
Controller enables to reduce energy consumption by optimal on/off and dimming profiles as well efficient maintenance cycles. LED luminaires are controlled using DALI interface. The device also has secondary duplex bus for controlling other electronic devices besides DALI drivers/ballasts. 
The Luminaire Controllers were connected to the LoRaWAN™ Gateway over the radio. The gateway is situated at the harbour, but the connection is also supported by other near gateways. LoRaWAN™ network server communicating to the gateway (via ethernet or optional 3G,4G card) has the data available to the application. The fully secure IoT Hub platform visualizes encrypted data from the end-nodes via LoRaWAN™ backend. Haven Kakumäe has the option to connect with external applications via API's (application programming interfaces) to use the data in third-party systems.
With the intelligent and lighting management system, Haven Kakumäe marina is able to make more informed decisions towards energy and cost-efficiency. Although the harbour is still testing the full solution, the controllers already provide better control over lighting allowing real-time control of street lights on calendar and time basis. The ability to monitor light intensity, work mode and movement means that unnecessary over-lighting can be avoided, which in turn allows to save energy.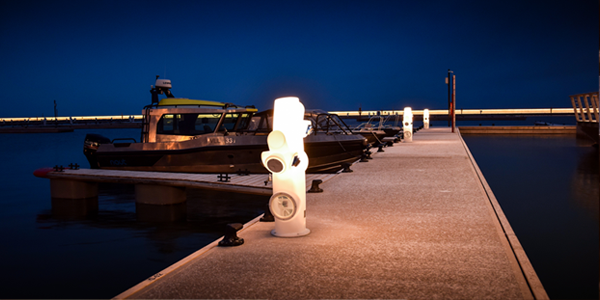 Equipped with the latest street lighting design, Haven Kakumäe is a true example of what future ports could be like. Controlled through LoRaWAN™ network, the harbour's 500m of continuous breakwater lighting is also based on "Wannabe" profile, designed in collaboration with product design company Keha3. Every electric box with a unique design represents different species of owls habitual in Estonia.
The installation of the first intelligent harbour using LoRa technology in the Haven Kakumäe started in March 2017. At the same time, also the implementation of more than 100 dock electrical and water distribution pedestals was begun. The pedestals will be equipped with NAS developed LoRaWAN™ Electricity Meter which provide 24h access to electricity for more accurate measurement of usage. Moreover, the marina's access control systems are going to be controlled through LoRaWAN™ network to allow flexibility and real-time notifications in case of any alert of possible unauthorized activity.
It is crucial to implement intelligent systems that can automate and simplify different processes in order to reduce costs. Haven Kakumäe as one of the first intelligent harbours in the world using LoRa® technology is certainly representing how the future smart harbour operation systems should be built to achieve efficient data sharing and stability of port services.
About Nordic Automation Systems
NAS is an industrial automation company, specialising in end-to-end Smart City & remote metering solutions. Company's smart gas, water and heat metering solutions include full vertical LoRaWAN™ infrastructure: end-nodes, gateways, IoT Hub cloud platform and API. With in-house R&D and production NAS provides complete range of sensors and meters for Utiltites – from retrofit universal to white label branded mechanical and ultrasonic meters. Visit NAS website at www.nasys.no
About Haven Kakumäe
Haven Kakumäe Marina is classified among five-star harbours. The infrastructure necessary for servicing the yachts is one of the most perfect in the Gulf of Finland, as it ensures quality and offers a pleasant experience for the guests. For the first time in Estonia, motorboats are stored in a rack system of up to four levels which is meant for boats up to 10 metres. Vessels of 10 to 30 metres in length and weighing up to 130 tons can be stored on the floor.
About LoRaWAN™
LPWAN (Low Power Wide Area Network) is a broad term covering several implementations and protocols, both open-source and proprietary. While other wireless communication technologies available like Bluetooth and BLE (and to some extent WiFi and ZigBee) are not suited for long-range performance, LPWAN provides the longest range with a low data rates.
The technology used in a LoRaWAN™ network is designed to connect low-cost, battery-operated sensors over long distances in harsh environments that were previously too challenging or cost-prohibitive to connect. With its unique penetration capability, a LoRaWAN™ gateway deployed on a building or tower can connect to sensors more than 10 miles away or to water meters deployed underground or in basements.
Header photo: Keha3