LoRaWAN Luminaire Controller sends signals from Estonia to Finland
When LPWAN technologies started to emerge a few years ago, the main argument for sale was the long range for the signal. Many tests were performed which showed the possibilities for the signal to reach over 100 km. Since 2012, when long range LoRa technology was acquired by Semtech, the development of the patented technology has grown rapidly with experiments for improvements made worldwide.
Today we are excited to announce that one of LoRaWAN Luminaire Controller developed by Nordic Automation Systems (NAS) sends signals to 86 km away in a real-life usage scenario. The given LoRaWAN Luminaire Controller which is located in Tallinn, has so far sent over 200 messages to the gateway in Finland with the average SNR value of 8.6 dB and RSSI signal value -117.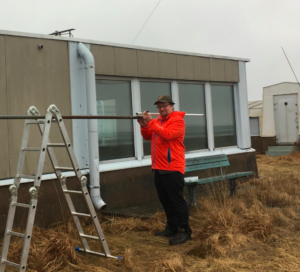 "The receiver of the signal is located in Helsinki, where NAS partner Etteplan has installed Multitech gateway. "The gateway is situated at the rooftop of the water tower in Ilmalankuja," says Jaakko Ala-Paavola, the Technology Director in Etteplan. "As the water tower itself is located at the top of a high hill, we would estimate the height around 90 m above sea level."
Nordic Automation Systems LoRa-based outdoor waterproof IP68 rated Luminaire Controller is a SMA antenna ready device which enables customisable dimming profiles with various configurable inputs. The 868/915 MHz controller can monitor each light by means of a bi-directional data exchange. Controller reduces both consistent energy savings, CO2 emission and enables efficient maintenance cycles, as well as allowing remote control of the LED and HID luminaires using 0-10V analog or DALI control signal.
"We were very glad to see the numbers of the coverage," says Viljo Veesaar, the founder of Nordic Automation Systems. "LoRaWAN Luminaire Controller is without a doubt one of the most promising devices for the near future smart street lighting solutions."
About Nordic Automation Systems
Nordic Automation Systems (NAS) is an industrial automation company. We create sensor technologies, data analysis and monitoring solutions. NAS is one of the world's leading provider of full vertical LoRaWAN: sensors, gateways and Cloud – plug & play. NAS offers custom-made smart metering, smart monitoring and smart city solutions to meet each project specific needs. The company operates in Norway and Estonia and have their own manufacturing facility located in Kuressaare. NAS is the technology partner for telecom and IT infrastructure provider Levira, offering IoT services in Estonia.
Nordic Automation Systems is a member of LoRa Alliance, an open non-profit association of members who will collaborate to drive the global success of the LoRa protocol (LoRaWAN). For further information visit NAS website at www.nasys.no.
About Etteplan
Etteplan is a specialist in industrial equipment engineering, embedded systems and IoT and technical documentation solutions and services. The company is the market leader in Finland and among the largest operators in the field in Sweden. Etteplan offers versatile and in-depth expertise in engineering areas, methods, technologies and customer industries. Etteplan is the industry forerunner in providing productized services to increase the efficiency of engineering work.
More information about Etteplan, visit www.etteplan.com.